Outline Images
Here are three outline images of a Cheetah/Tiger and two outline images of an AA1[Ab] suitable for experimenting with paint schemes.
Traveler owners will have to modify them for the older tail design (and remove the baggage door, if it's a pre-75). AA1C owners will have to modify them for the newer tail design.
The outlines originate from the Maintenance Manual drawings, scanned in and cleaned up.
Each image is 300 dpi for laser printing. They will print nicely up to "E" size drawings.
The top/bottom view is scaled smaller than the side view so it will fit on same size page as the side view.
Note that the outlines feature the Red rudder cap.
Wheel fairings not included.
The bottom outline does not show landing gear for clarity.
To use, command-click or right click on each image, and "Save Link As..." will copy the original gif file to your local machine. Then open the files on your local machine with any suitable graphics program. And have plenty of memory available - they will expand quite a bit.
AA5[AB] Side View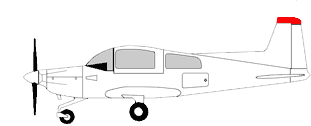 Not For Navigation